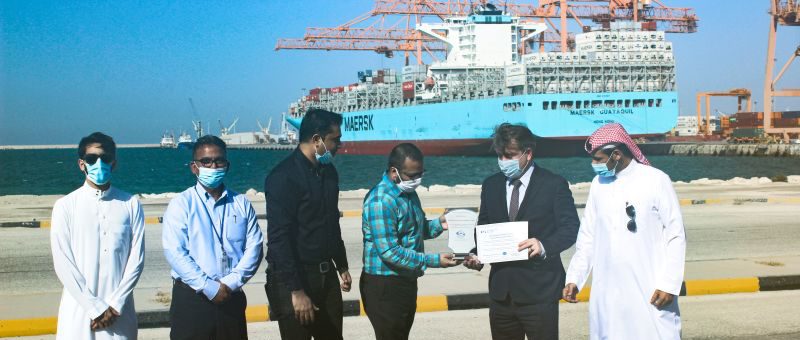 0 Comments
November 15, 2020
by Administrator
GSCCO/Jubail Commercial Terminal (JCT), part of the Gulftainer Group, received its first "Certification of Appreciation" from Saudi Guardian International Float Glass Co. Ltd. Regional Logistics Manager, Suhaib Naeem, handed over the award thanking terminal staff for their professionalism, responsiveness and excellent customer service when importing and exporting Glass products through the Jubail Container Port.
Saudi Guardian Glass produces float, high-performance glass and fabricated glass products for use in exterior (commercial/residential) and interior architectural applications, and transportation and technical products. With manufacturing plants in Jubail, Saudi Guardian Glass, part of Koch Industries Inc., has chosen JCT as its logistics partner over other Ports in the region due to its superior customer service and responsiveness to its clients' needs.
GSCCO/ Gulftainer KSA Managing Director, Jason French said "We are delighted to receive this Certificate of Appreciation from such an esteemed manufacturer as Saudi Guardian Glass. This award is particularly satisfying because it highlights the professionalism and the commitment of all colleagues at the JCT to provide the best service possible to our partners."
Both companies are committed to the Kingdom's 2030 Vision.